Pearls and Dreams
Take the quiz:
"Your Psych-Ward diagnosis"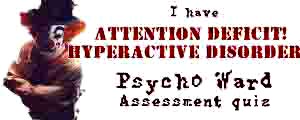 Attention Deficit Hyperactive Disorder
Diagnosis: (ADHD), formerly called hyperkinesis or minimal brain dysfunction, a chronic, neurologically based syndrome characterized by any or all of three types of behavior: hyperactivity, distractibility, and impulsivity.
I was diagnosed so long ago, they still called it hyperkinesis, then the minimal brain dysfunction ...
I was a girl born in 1964. Long before it was commonly acknowledged that girls could get this. Can you imagine what a nightmare I must have been to parent??????

My poor mother!